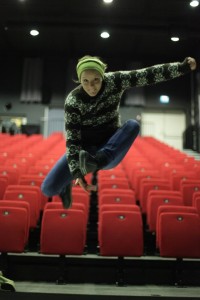 Dance artist based in Trondheim, Norway.
Education:
BA (Hons) Dance Theatre from Laban Centre London, PPU from KHiO in Oslo, and CMA from LIMS in New York.
Current work:
•    Dance consultant /producer at DansiT – a regional center for dance in Mid-Norway
•    Artistic director of The Dance Laboratory – a group of differently bodied dancers
•    Manager and pedagogue in Rabalderdans – a creative dance project for pre-school children
Collaborators (companies/choreographers/directors):
fieldworks, Terje Tjøme Mossige/Øyvind Jørgensen Produksjoner, Rhode/Aass, Barbro Djupvik, Cirka Teater, Inclusive Dance Company, Landing, Abalino Dance Theatre.
Collaborators (musicians & artists):
Arnfinn Killingtveit, Sondre Ferstad, YODOK III, Maria Norseth Garli & Marit Bolsø Brodersen /Mind The Gap, Tomas Järmyr & Eirik Havnes, Matilda Rolfsson, Marcus Cummins, Bjarne Iestra / storstas, John Cunningham & Lars Erik Ter-Jung, Tom Stien.
Constellations:
YODOK IX, Flønes/Sanders/Strugstad, VIB – verksted for improvisert bevegelse, TrioSAPFO3, Bridge & Tunnell Movement Collective.
Previous employers (teaching):
Trøndertun, Sunnhordland Folkehøgskole, Spin Off kveldsskole, Kvinnherad kulturskule, Stjørdal kulturskole.
(Photo: Endre Forbord)